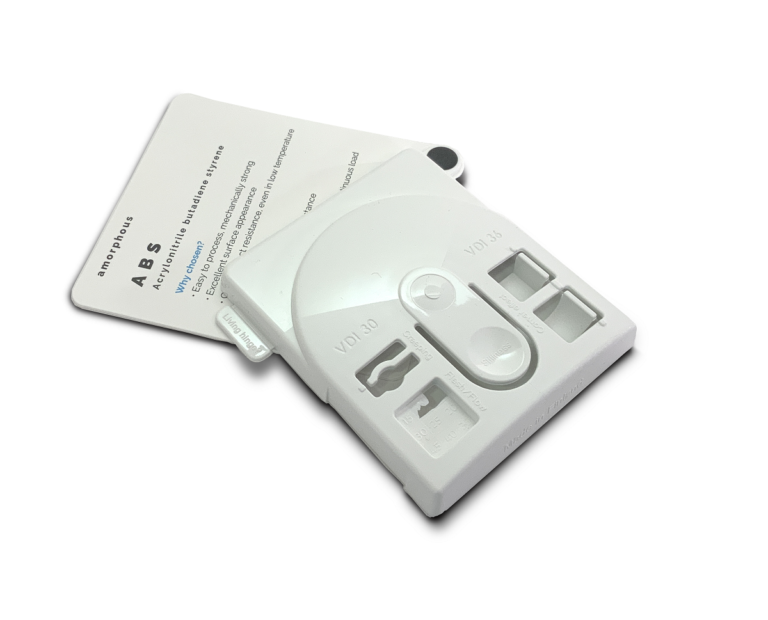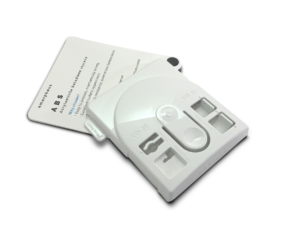 Acrylonitrile butadiene styrene is a relatively common and inexpensive amorphous plastic widely known for its use in LEGO bricks. ABS is mechanically strong and rigid; it is a good choice for the manufacture of straight and shiny-surfaced products. It is commonly used in plastic housings and panels of household appliances. Unlike most amorphous plastics, ABS is not transparent, because of its butadiene content.
ABS is perhaps the best-known plastic among product designers.

Why choose it?
Easy to process, no need for deburring
Minimal tendency to warp
Excellent surface appearance
Good impact resistance even in low temperatures
Relatively inexpensive (ABS is often classified as a commodity plastic)
Why not choose it?
Poor thermal resistance. ABS becomes fairly soft already at temperatures as low as 70°C.
Chemicals, e.g. CRC or nail polish remover are poison for ABS.
Prone to stress-cracking. Assembly snap joints etc. should be designed in a way that they are not subjected to continuous load.
Poor UV resistance. ASA could be a better choice.
Typical applications:
Electronic housings
Lego blocks
Computer mouse
Housing of a toaster
Note: The transparent modification of ABS is called MABS.
By examining the Plasticprop sample made of ABS, you can draw for example the following conclusions:
The sample is very straight and the corner effect barely noticeable. ABS is not sensitive to warpage. It is especially suitable for manufacturing straight and dimensionally accurate components.
Regardless of the minor shrinkage and part straightness, the sink marks caused by ribs are clearly visible on the shining surface.
Stressing the creep indicator suggests that permanent deformations are quick to occur. The combined effect of stress and chemicals can be examined by dropping some nail polish remover or acetone on the root of the indicator.
When removed from a freezer, the sample can survive relatively high drops without breakage. ABS maintains good impact resistance even when cold, although there will be scratches on the sample surfaces.
Ink and paint adhere well to ABS. It is also easy to glue.
If you heat the ABS sample, note how the tab in the middle bends under its own weight even at temperatures below 100°C. Poor resistance to heat is a characteristic of ABS that should be taken into account in design.