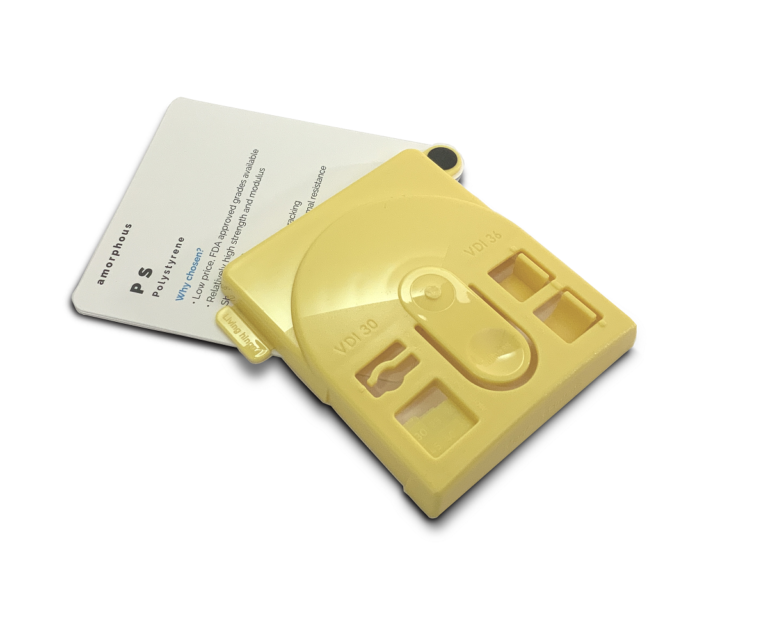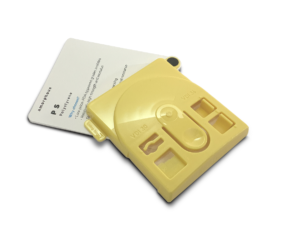 Polystyrene is an inexpensive, amorphous, commodity plastic. In its original state, polystyrene is transparent, but similarly to the Plasticprop sample, it is often coloured and used in toys, disposable containers, or various boxes. Mechanically, PS products could even be characterised as stiff, but their impact resistance is very modest. Also, PS does not withstand low or high temperatures, UV light, or chemicals, which limits the use of polystyrene in more demanding applications. Basic polystyrene grades are also known as PS-GP (General Purpose).
Polystyrene as opaque
Why choose?
Inexpensive material mainly for indoor use. PS is a commodity plastic.
Expectations of the product's lifespan are low.
FDA approved
Stiffness. PS has a slightly higher modulus of elasticity than most unfilled plastics. It is nevertheless not suitable for machine design purposes.
Why not choose?
Risk of continuous load and stress cracking. Components made of PS often break over time even due to internal stress.
Poor chemical resistance.
Low service temperature (e.g. temperature inside a car left in the sun might be too much for PS component)
Fragile, poor impact resistance (you might see what HIPS has to offer)
The rattling sound that is typical to PS (when you tap your finger on it) doesn't give an impression of high quality.
Typical applications:
Toy guns
Board games
Paper trays
Screwdriver sales package
Plastic cup
CD case
PS as transparent
Why choose?
Very good and clear transparency
The same qualities as opaque
Why not choose?
The same weaknesses as opaque
Typical applications:
Paper trays
Spice packages
Screwdriver sales package
Plastic cups
CD case
By examining the Plasticprop sample made of PS, you can draw for example the following conclusions:
PS does not shrink much and the corner effect is nearly lacking. Dimensionally accurate products can be made of the material.
When knocking on the sample, the pitch is high compared with most non-reinforced grades. This reveals the modulus inherent in PS. At the same time, the sound is slightly rattly, which is very typical for products made of PS.
Scratches are clearly visible on spark-eroded surfaces with small draft.
PS is brittle; it does not have plastic behaviour. You can easily break off the tab in the middle of the sample by pressing it. PS is by no means a tough material.
You can break the creep indicator by setting it under tension for a longer period of time. PS is very sensitive to stress corrosion.
If you heat the PS sample in an oven, note how it softens even at temperatures below 80°C. This is a feature of PS worth keeping in mind.