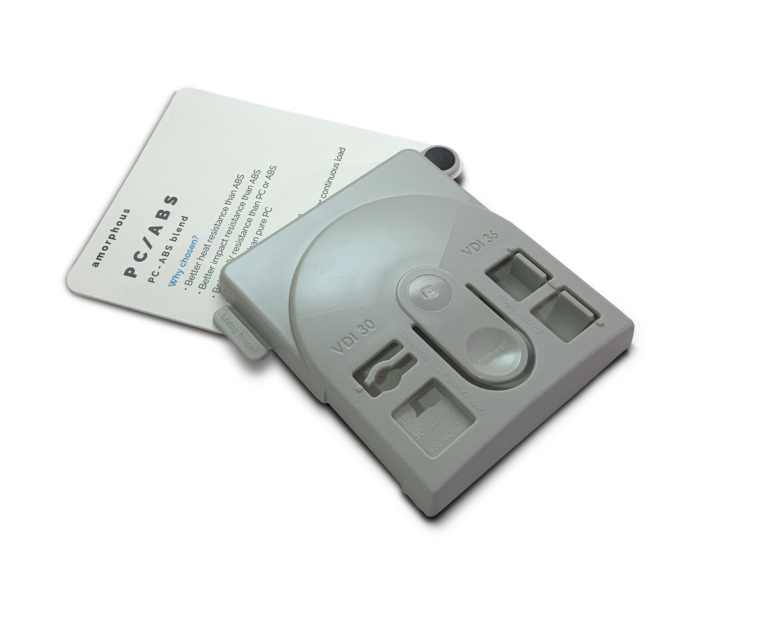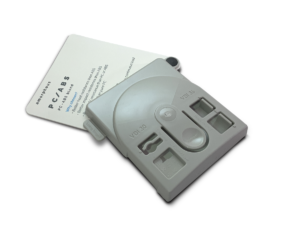 PC/ABS (sometimes "PC-blend") is a blend of polycarbonate and ABS. It is very common in housings of electronic appliances. The blend is intended to combine the best properties of each grade: extended operating temperature range, impact resistance, processability, and good surface quality (although it is a common joke that PC/ABS combines the worst properties of the two materials).
As a combination of two amorphous materials, PC/ABS is naturally amorphous as well. However, the ABS content makes it opaque.
Why choose?
Strangely enough, this combination of two materials with poor UV resistance can endure UV light slightly better.
Why not choose:
Poor chemical resistance
Prone to stress corrosion cracking
Typical applications:
TV remote controller's case
Cell phone case
Laptops
By examining the Plasticprop sample made of PC/ABS, you can draw for example the following conclusions:
The sample is straight and has neat surfaces, and the corner effect is negligible. The overall quality impression is similar to the ABS sample.
The impact resistance of PC/ABS and ABS samples at low temperatures can be compared by freezing them. Naturally, it is difficult to ensure absolutely neutral testing conditions. The impact resistance of PC/ABS at low temperatures should be superior to that of PC.
When PC/ABS and ABS samples are heated, softening of the PC/ABS sample will take longer. Improved heat resistance is one of the reasons for using the blend.